perryleopard.free.fr
them thievin' crows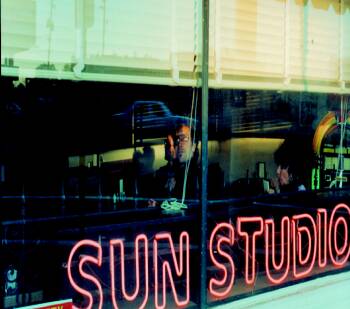 Moi et mon ami David Langston avons joué à Birmingham, Alabama en 1985-1986 dans Them Thievin' Crows. Quelques années plus tard, quand je lui ai rendu visite en Tennessee, nous avons enregistré d'autres chansons.

My friend David Langston and I had a band called Them Thievin' Crows in Birmingham, Alabama in 1985-1986. Some years later when I visited him in Tennessee, we recorded a few songs.

Stream the mp3s on this page with Webjay
Ecoutez les chansons en streaming avec Webjay + Stuart Street: Bass. Brandon Butler: Drums. Bill Whetstone: Harmonica.

Deux chansons enregistrés par Bill Whetstone en 1986 dans notre salle de répétition.
Recorded in 1986 on a 4-track by Bill Whetstone in our rehearsal space on 20th St. S.


L'histoire du monde en trois couplets blues-rock — et à l'envers ...
Backward history of the world in three blues-rock verses.

Country. "Lucky has a camera, she takes the lonely folks pictures."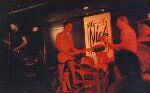 J'ai apportée une magnetophone portable au Wooden Nickel pour un concert en première partie de Carnival Season en 1986 et j'ai enregistré notre set.
Les copains du batteur, Brandon, faisaient pas mal du bruit et lui apportaient des bières. On a préparé un set list mais David appelait tous les morceaux qui lui passaient par la tête.
Matthew Elliott — qui a été d'accord pour venir de Tuscaloosa la veille et apprendre les morceaux — a beaucoup transpiré.
Voici David qui chante sa chanson In the Name of the Lord suivi par Sweet Jane chantée par moi.
I brought a portable cassette player to a show we opened at the Wooden Nickel for Carnival Season in 1986 and taped our set.
Friends of Brandon the drummer cheered and brought him beer.
We made a set list but David just called off any song that came into his head.
Matthew Elliott — who graciously agreed to drive up to Birmingham from Tuscaloosa the day before, learn all the songs and play the show — sweated a lot.
Here's David singing his In the Name of the Lord, followed by me singing David's arrangement of the VU's Sweet Jane.
In the Name of the Lord / Sweet Jane (mp3 9m)
Des répèts de 1986 / From 1986 rehearsals:
Turn Blue - David (mp3 4.5m)
Waitin' It Out (mp3 2.5m)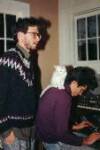 Minor boogie celebrating a hatchback with cute wheels and a stuffed white bird of death hanging from the rear-view mirror.

« Quel type de chanteur va écrire une ode à sa voiture (japonaise) ? ... Difficile de décrire ce morceau et ce type de musique, résolument originale, qui laisse tout d'abord perplexe. Entre un Tom Waits barré (les bruits, les voix azimutées) ou des Cramps modernes (la structure définitivement traditionnelle, la guitare caractéristique...), difficile de s'y retrouver et ce parti pris d'originalité pourra en désorienter quelques-uns. Dommage car le trip mérite le détour, mais n'est-ce pas là la rançon des innovateurs ? » (Webnzic)

Aussi enregistrés chez David et Anne Wade in novembre 1991 ...

Datsun was recorded in November 1990, in Jackson, Tennessee at the house where David lived with Anne Wade, whose dogs and cats contributed .... Here are some others recorded then.

Thought of Smokey when I wrote this.
On veut tous faire un peu comme Smokey Robinson. Rock anthem. En novembre 1991, je suis retourné rendre visite à Jackson et nous avons enregistré All Liars
A real peace-and-love tune, man, recorded in Jackson in Nov. '91.

perryleopard.free.fr
Tunes / Zique
Liens / Links